Our advantages
Only Unique Papers

No plagiarism, either intentional or accidental

$0 Revisions

Buying term papers online, you get infinite free revisions for perfecting your paper

Split Payments

Buy term paper without paying the whole price at once
Place an order now,
pay later
Your Ultimate Source of Term Papers Written by Experts at Affordable Rates
Welcome to the Site, Where You Can Buy Term Papers Online!
You don't have to tell us how tough a student's life is. We, people behind, WritePaperFor.me, have graduated not long ago, and those times of both youthful joy and unbearable assignments are still fresh in our memory. In fact, there are two major things that we were fueled by when the idea of creating this reliable academic help site for students came into our heads and became our life's goal: Regret An awful feeling which cannot be ignored when you finally get your diploma you have been working for so hard and for so many years. This great moment is soon undermined by the realization that you have spent countless hours on meaningless essays, term papers, thesis, and other coursework. You have reached the goal, but all that time is gone, and all the lost opportunities are gone with it. Hope That regret makes you wish there were someone who could have written those papers for you. And then you realize that you can be that someone for other students who still have the chance to get the best out of their college days. After all, you've had more than enough practice and are now a pro in completing written assignments. So, by offering our help to students, we could make our experience valuable. And that's how it all began. At first, we were a small group, but our services turned out to be in demand, and we kept hiring new writers and expanding the list of subjects our customers could get
term paper help
with. 'How do you stay enthusiastic about writing my term paper? Weren't you sick of written assignments once you graduated? Why did you choose to get involved with academic writing again if you regret doing it yourself back in the day?' You know, those are actually the questions we had to ask ourselves when cherishing the idea of WritePaperFor.me. The thing is, during our study, we managed to deal with our tasks by making them quite bearable or even enjoyable at times. Besides, it's completely different when you are writing someone else's paper. It's additional responsibility, and we know we absolutely cannot afford to fail our customers. And at times we just imagine that we are giving a hand to our past selves, creating some kind of an alternate timeline. Sounds crazy, right? Well, we genuinely enjoy helping our clients by giving them a chance to just buy term papers online.
Term Papers for Sale Online: The Coolest Discovery a Student Can Make
There is nothing better for us than positive feedback and all the gratitude we receive for our work. It reassures us that we are doing the right thing and helping out students in need. Sure, we get paid in return, but it's more than just a job to us, it's a way of life. No one will agree to do your homework for free, or at least not for a long time (they may also not always be available or deliver quality papers). However, we make sure that our
term paper writing service
is affordable, and we strive to make every penny you pay for it worth it. You may be wondering how we manage to keep our prices so relatively low while offering quality papers and satisfying our customers. 'Do your writers get appropriate compensation? Don't they think they are paid too little for their work, being hard-working and well-educated academic helpers?' Well, we make sure that we employ passionate people who are ready to compromise in order to offer affordable services to students who desperately need them. But there's also something else. You see, by offering lower prices for high-quality papers we are able to attract more customers and provide our writers with a steady flow of work. Other services offering term papers for sale online compensate the lack of customers by charging more. And while being charged more, their customers often expect much better papers than they receive for that money. We think you will agree with us that that's a no-win situation. So, WritePaperFor.me is ready to charge you less for the same or even higher quality of papers to let you be completely satisfied with your order. And, hopefully, that will make you think of our service the next time you require help with your assignments. As you might have guessed, term papers are not the only type of an assignment we provide assistance with (or write from scratch). Basically, we can deal with any other task high-school, college, or university students face, and we're more than likely to have the right person for your field of knowledge. You can check the available options using the price calculator and get the approximate cost of your order based on the type of paper, deadline, academic level, and the number of pages. Or you can do a similar calculation by filling out the order form, where you can also see the full list of subjects we can help you with.
Consider Buying Term Papers Online? You're Already at the Best Place to Do That
'You keep saying that your prices are reasonable and affordable, that I can check them using the price calculator or the order form. Why don't you just tell me what they are?' We know how evasive that may look, but it's really better for you to check them yourself because there are a lot of possible outcomes depending on your specific order. We've got a tab called Prices, and it has a convenient table where you can find the deadline and your academic level, and see how much a page of your paper would cost (provided you don't ask for any additional features). There are also four different services we offer, and each of them has its own table with its own prices. They are: -writing from scratch; -editing/proofreading; -problem solving; -paraphrasing/rewriting. As for the deadlines, you will see that the longest (and the cheapest) option is 14 days. Sure, you don't always have so much time for simpler assignments, and that's why we list shorter timeframes. We also know that often, despite having enough time at first, students get concerned about their papers with only a fraction of that initial time left. The shortest period we can operate with is 6 hours, but you will have to check with our customer support to find out the type and size of work we can do within your urgent order. Obviously, there are limitations on how much even the most skilled and experienced writers can produce maintaining high quality when racing time. So, don't wait till the last minute even if you plan on buying term papers online. Besides, the sooner you contact us, the cheaper you order will be. Okay, we've covered prices and deadlines, what else should you know? Plagiarism? There won't be any in your paper, we'll make sure of that. Revisions? Sure, free and unlimited. What other proofs that we care about your satisfaction do you need? Refunds. That should do it. Partial and full, if for some reason you don't like the paper and want your money back. That almost never happens, but we want you to know you are not risking your money. Did we miss anything? Got any questions? Address them to our customer support, they're always online to answer your questions, guide you, or help you communicate with the writer. We can't wait to fill your life with the time you can spend in more productive ways than writing boring term papers. Leave that to us, and you won't regret anything!
Our Customers Are Always Satisfied
Joanna
Had some minor typos to fix but overall the content was great.
Nick
I am a very busy person who values time. WritePaperFor.me knows how to do its job really fast!!!
Carrie
It was my first time using such service and I was really nervous. Support Jamie was very friendly and helped me to fill in my order form. Thank you, guys!!! I will definitely use your service again.
Josh
My professor is a real jerk! He likes to change the assignment in the very last moment. I have never thought that a 5-page research can be done in less than 6 hours. Thanks to WritePaperFor.me I managed to kick my professor's butt and party all the n ...
Place an order now,
pay later
How We Operate
In 4 Easy Steps
Describe your needs

Enter necessary information into the order form

Provide payment details

Choose one of the dozen available payment methods

Relax and enjoy yourself

Let our team take care of your papers while you rest

Download the paper

Preview and approve the paper if you don't require revisions
Our best writers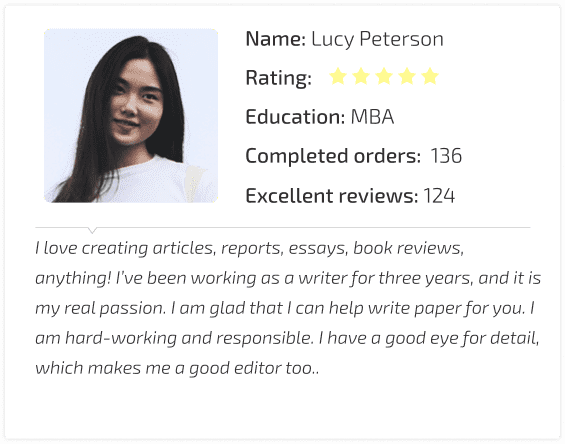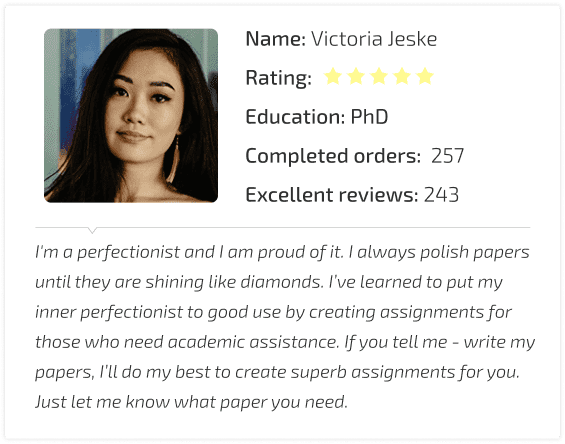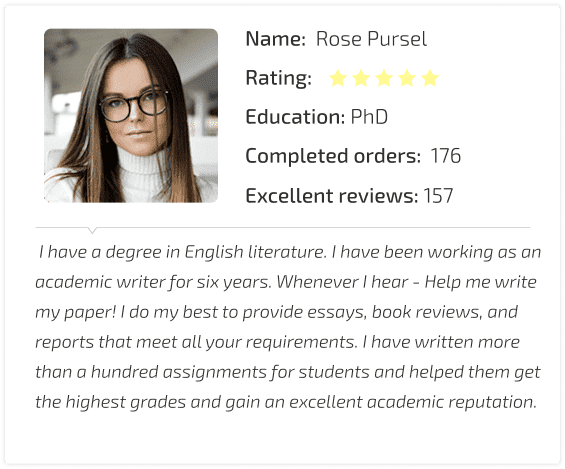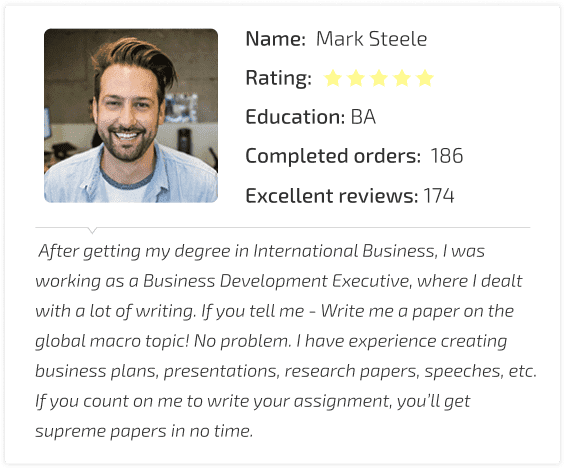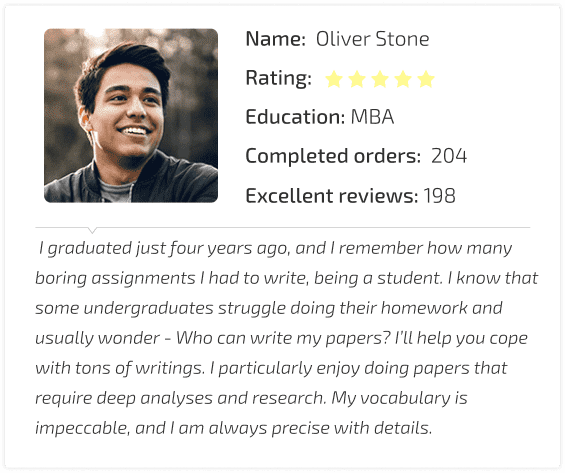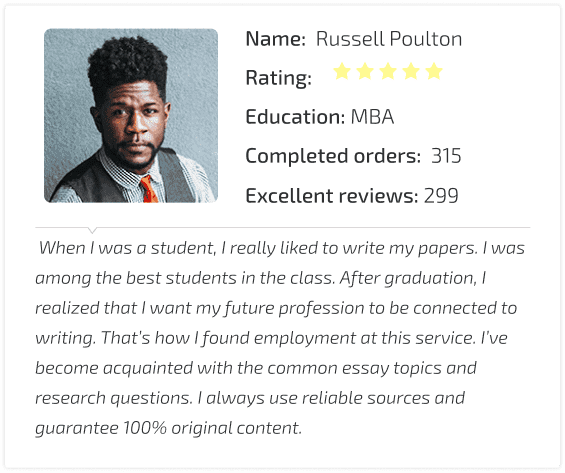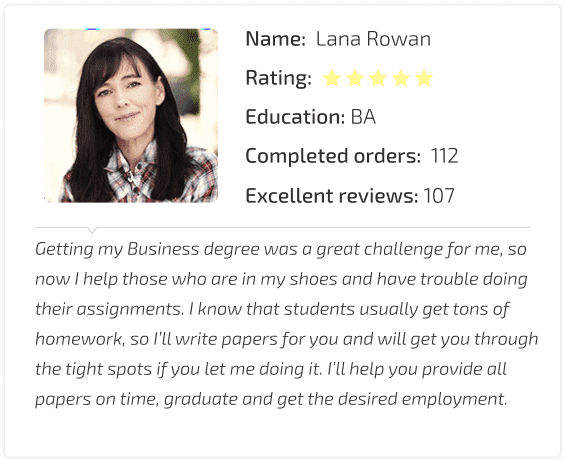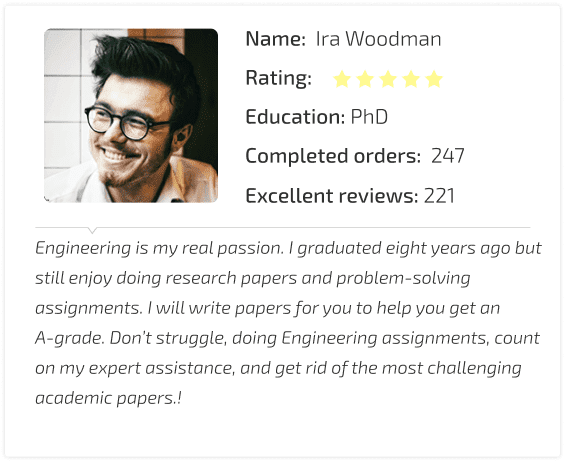 See all reviews
Our contacts
Reach us by any means available:
Now is the time to contact and get the professional writing help you need.
We really want to help you!
Place an order now,
pay later