Essay writing blog on WritePaperFor.me
Writing a case study is a usual thing for those who study business, sociology, education, or multiple other subjects. It is another type of academic writing project that requires flawless skills, awareness of the field, deep knowledge of the area, and flawless analytical skills. Besides, chances are you will not succeed with the assignment unless you know the case study structure, form, and similar specifications that may predetermine the quality of the paper.
Do you need to deal with such a project for the first time? Do you struggle with the assignment? Take your time to read comprehensive information about the paper type and its peculiarities, to analyze writing tools and instruments that may be effective for your writing, and to thrive with the project.
What is a case study: definition and key peculiarities
A case study is a comprehensive and detailed study of a specific unit of society. Writing a case study, students may focus on a person, community, family group, or even an event. However, the most important point here is the analysis of a single unit. The main purpose of a case study is to detect factors that influence the social unit and the relationship between its members.
A consistent and profound case study is a kind of research that is frequently used to generate a wholesome understanding of complex issues in a specific context. Due to the ultimately high prominence of the case study findings, it is frequently applied in a whole variety of disciplines, mainly special sciences.
What are the key peculiarities of the case study that should be taken into account? Check out a few characteristics that can make the research paper stand out to be valuable and effective.
A small number of studies units.
Thorough and deep research and analysis.
A complex study that presupposes both qualitative and quantitative analysis.
A wide cycle of time is covered.
Continuity in nature is one of its features.
Studying personal documents, autobiographies, interests and qualifications of the researcher, motives of the study, and life stories of respondents, students get an opportunity to conduct and deliver a comprehensive analysis of the topic.
Case study writing: when is it assigned?
When it comes to writing a case study, a lot of students get confused, as they have little to no idea of how to succeed with the assignment. Comprehending the paper definition may clarify some information and inspire further research and analysis of the topic. However, it may not be enough for the desired success. Reading and analyzing case study examples that are widely available online may also be a good idea, but it is frequently insufficient.
Only a complex and comprehensive approach to this type of academic writing may help you thrive with the project. So, when do students write case studies? First, a case study is research conducted by students who want or need to obtain contextual, precise, and profound knowledge about a certain subject. It gives an opportunity to get an in-depth analysis of the meanings, characteristics, and implications of the case.
While case studies can mean nothing in a variety of fields, this type of academic writing is exceptionally important for business analytics, clinical settings, psychology, social research, educational settings, and a few other areas. In most cases, they are a decent choice for a dissertation or thesis. Students can either conduct a single case study exploring one specific subject or focus on a few studies comparing the issues and drawing specific conclusions.
Difference between case study and research paper
Those people who are involved in creating a thesis or dissertation often need to work on both a case study and a research project. It means that these are different types of academic writing assignments, even though the overwhelming majority of learners cannot tell the difference between them. In fact, there are a few critical aspects, including the case study format, purpose, and content, which make these papers completely different things.
A case study is focused on the analysis of a company, person, family, or product, their specifications, and basic features. The main idea of the case study writing is to analyze the phenomena, specify its strong and weak points, single out problems, and suggest effective solutions.
A research paper is a different type of academic project that concentrates on a specific subject matter. The student's task is to analyze the problem and detect various perspectives on the question. Research papers presuppose much more reading, comprehension, and analysis so that the topic is covered from the most different perspectives.
Taking into account the peculiarities of both types of academic papers, it is possible to highlight some features that make them different. In short, they are as follows:
A research paper is broader, while the case study is focused on one specific aspect.
A case study requires a profound introduction to the person, company, or event under discussion, which is not obligatory for in the research paper.
Research presupposes referencing other papers and emphasizing different views on the subject matter, which is not necessary for the case study.
Types of case studies
Writing a good case study starts with choosing a suitable type. Depending on the objectives and purposes of the research, students can opt for various types of case studies. There are six most common variations that are applied in different fields to discover various topics.
Descriptive. The descriptive theory is the basis for this type of case study. The writer's task here is to observe the subject, collect information about it and compare the collected data with pre-existing theory.
Explanatory. Causal investigations are the most common instances when this type of case study is applied. In short, the researcher is focused on the aspects and factors that could have become the causes of certain phenomena.
Exploratory. This is the most basic and simple type of case study, which serves as a prelude to more comprehensive research. However, it provides the researcher with an opportunity to college inevitable information for the development of research questions and formulating the hypotheses.
Instrumental. This type of case study is tricky, as its goal is to understand the aspects that have been previously obvious to researchers.
Intrinsic. When the researcher has a personal interest in the case study, this type of the paper is used. In most cases, it is applied in psychology to study the behavioral patterns of different people.
Collective. This is the rarest type of case study which is used to analyze and examine multiple case reports and come up with certain conclusions. Collective case study reports are usually created to find reasonable similarities between instrumental reports, provide evidence inevitable for the beginning of a new study, or obtain a deep understanding of a specific phenomenon.
Case study format: how to structure the paper
Once you are aware of the case study definition and types, you are ready to proceed to the next point, analyzing its structure. It will unveil a few most important tips on how to write a case study that will be consistent and relevant. Before you dive into the peculiarities of the paper format, you should understand that it may vary depending on the requirements of your professor. Anyways, a standard structure that consists of the introduction, body, and conclusion should be preserved. If you have a look at multiple case study examples, you may notice that some of these parts are extended, but the overall format remains the same.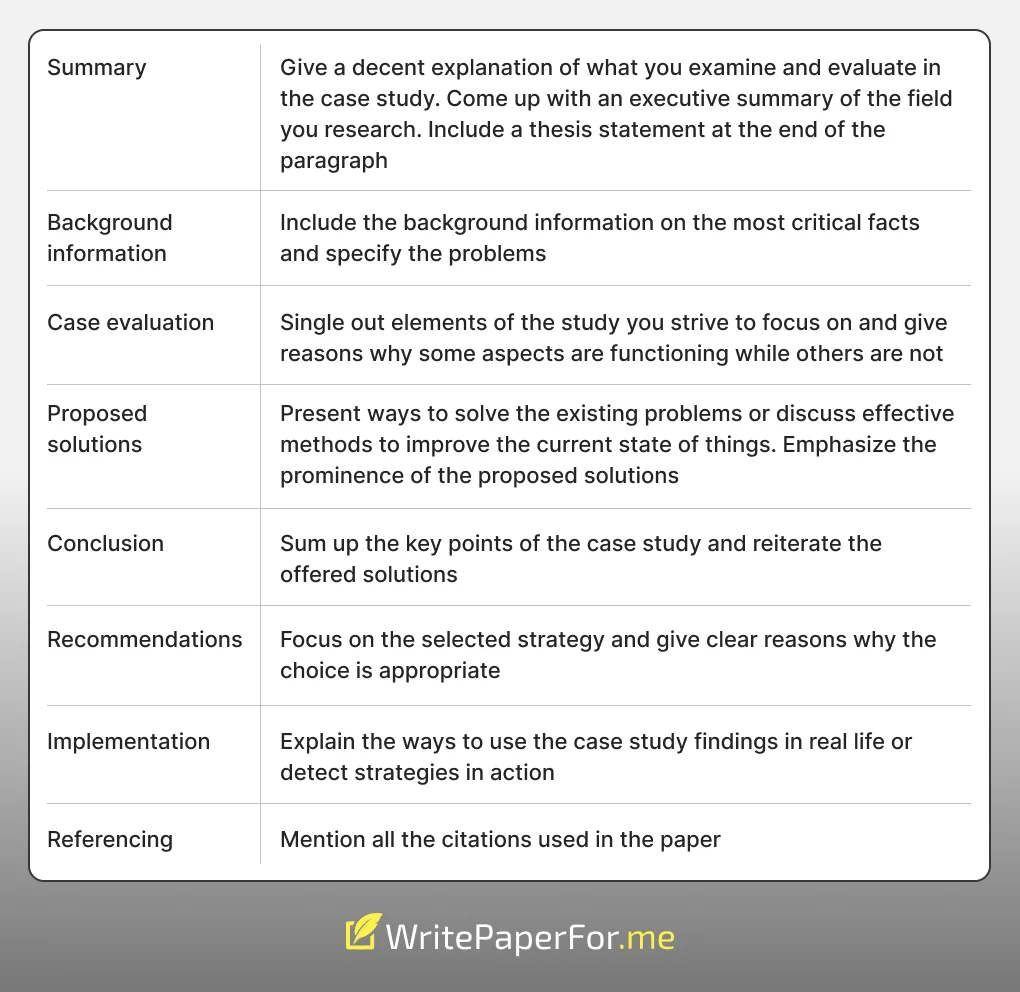 Check out multiple case study templates that may expand your vision and help you create a consistent, well-structured, and comprehensive paper.
How to write a case study: step-by-step guide
When you are done with all the preparatory aspects, you may proceed to the case study writing. It is a challenging process that requires ultimate attention to detail. Make sure you know how to start a case study and come up with a meaningful result. Start with the pre-writing stage to collect inevitable information and have a chance to create a meaningful, relevant, and consistent paper worth appreciation.
Step 1 - Research
The first thing you should remember about case study writing is that profound research is a must. Looking through case study examples is a beneficial point, but it may be useless if you have zero understanding of the analyzed field. Therefore, make maximum effort to read and comprehend as much information as possible to come up with effective and influential solutions. Conduct interviews, if necessary, to investigate the stories of case study participants. Additionally, if you strive to succeed in the research process, you should deal with the following undertakings:
Define the objectives of your case study.
Come up with the characteristics of the perfect candidate for your case study.
Predict outcomes that can potentially appear in certain situations.
Compile a list of valid and credible data sources and take your time to analyze them.
Focus on the most prominent issues.
Step 2 - Outline
The case study outline is a way to simple and successful completion of the academic assignment. Therefore, it is indispensable to pay due attention to this aspect, dividing the paper into meaningful parts. Make sure the paper you are working on has an introduction, main body, and conclusion, divided into extra parts, if necessary.
Keep in mind that the effective outline is short, concise, and comprehensive. It should not contain much information but should be able to guide the writer through the process.
Step 3 - first draft
Finally, it is time to proceed with the writing process. When you succeed with the outline creation, it will not be a complicated procedure, as you will only have to follow the step-by-step guide that will result in a consistent and relevant paper. Consider using free case study templates that may also be helpful for students who work on a similar assignment for the first time.
Working on the first draft, you should focus on the content of the case study rather than its form. Use relevant data and information you have collected from interviews and research to keep the paper up-to-date and credible. Additionally, there are a few tips that may contribute to the quality of your case study:
The paper draft should be well-structured and coherent.
Be precise and clear writing an introductory part.
Focus on the authentic research process, mentioning the most interesting details.
Include interesting data that can impress readers (charts, findings, quotes).
Offer influential and effective solutions.
Step 4 - editing and proofreading
As it has already been mentioned, a case study is a type of academic writing. Therefore, excellence in detail is critical. Once you are done with the first draft of the paper, make sure you double-check it for grammar and punctuation mistakes, data inaccuracies, any inconsistencies, and typos that can affect the quality of the paper. Take a few minutes rest after the writing process so that you can notice all the errors. Additionally, there is always an opportunity to use online tools and instruments that will automatically detect and highlight all the mistakes in the text. Anyways, this is the step you cannot skip.
Step 5 - title and reference pages
Finally, once your paper looks flawless, you need to take the last step toward the desired result. A title page is another important element that should be well-structured and created in compliance with the regulations. The format of the title page may differ a bit, depending on the formatting style. However, there are a few universal tips that will make your title page effective:
Use the title page to attract the reader's attention and mention the topic of your study.
Include your name on the title page, along with the contact information.
The title of the case study should not be longer than 9 words.
Mention the phrase "case study" on the initial page.
Are you ready to proceed to the title page writing? Start with the analysis of case study templates that will help you understand the basics of title and reference page formatting. Below, there are two samples of the information that should be mentioned in the title pages of different formatting styles.
APA:
Title of the paper
Name of the student
Institutional affiliation
Course name
Professor's name
Due date
MLA:
Title of the paper
Author's name
Course name
Professor's name
Date
Additionally, the reference page is another element to pay attention to. In some cases, you will have to cite the research or study of other people, so you should know how to do it properly. Check out the sample references in various formatting styles.
APA:
Name of the author. (date). Title of the work. Place: Publisher.
Stillings, N. A. (1995, January 1). Cognitive Science: An Introduction. https://doi.org/10.1604/9780585038292.
Wachtel, P. L. (1991, December). Political Psychology and Economic Psychology. Political Psychology, 12(4), 747. https://doi.org/10.2307/3791555.
MLA:
Name of the author. Title of the work. Place: Publisher, date. Form
Stillings, Neil A. Cognitive Science: An Introduction. 1995. Bowker, https://doi.org/10.1604/9780585038292.
Wachtel, Paul L. "Political Psychology and Economic Psychology." Political Psychology, vol. 12, no. 4, JSTOR, Dec. 1991, p. 747. Crossref, https://doi.org/10.2307/3791555.
Conclusion
Unlike traditional essays, case study writing presupposes much more attention to detail, persistence, and writing skills. Therefore, lots of students fail to deal with the assignment even though they have wholesome guidelines and effective tips. Reading sample papers, using case study templates, and sticking to the core rules may help determined and goal-oriented students to succeed with the projects. At the same time, it is indispensable to highlight that it might take some time to practice writing skills inevitable for the desired success.
Students, who keep struggling with case study writing, should not get disappointed, as they may always find a beneficial solution. Writepaperfor.me is a team of experienced writers who know everything about different types of academic assignments. You will only need to contact the representatives of customer support, ask questions that will dispel your doubts, and confirm an order. Stay specific, giving directions and mentioning requirements to the custom paper so that the writers can deliver a consistent and coherent paper that will comply with your requirements.