Essay writing blog on WritePaperFor.me
Whenever you press the like button on Youtube, choose who to vote for, or write a review on Amazon, you're essentially stating your opinion. And that's the core aspect of opinion writing. Unfortunately, professors don't grade tweets or TikToks, so you'll need to roll up your sleeves to get a passing grade on your opinion piece. And with this post, you'll have all the tools you need to ace the assignment. From detailed explanations of the task to topic choice and outlining, we cover all critical aspects of the paper in this post.
What is an opinion essay?
Opinion papers are a common writing assignment in high schools and colleges designed to develop critical thinking, research, and writing skills.
The opinion essay format requires answers to two questions:
What do you think about the issue?
Why do you think so?
The answer to the second question is crucial, as it requires hard facts, evidence, and logic to support your decision-making. It's also why your opinion paper cannot be one sentence long.
What makes opinion papers special?
After learning the answer to "What is an opinion essay?" you may feel it's no different from argumentative or expository writing. But there are subtle nuances that set this assignment apart from all others. For example, an argumentative essay is nearly indistinguishable from an opinion paper until you realize the former builds an argument around a fact, while the latter supports a personal position. Unlike persuasive pieces, opinion essay examples do not use emotion to convince the reader to agree with your position. And when it comes to expository writing, you're supposed to be objective and shed light on all sides of an issue, while opinion pieces are subjective and focus on a single position.
Opinion assignments may not be as common as argumentative essays, but you may encounter them across most Humanity courses, from composition classes to sociology, political science, and others. After all, these papers teach you to develop strong positions based on factual evidence, an essential skill in any field and niche.


How to choose opinion essay topics?
In most cases, professors will ask you to write opinion pieces on the topics discussed in class or your recommended reading list. However, sometimes they may provide a broad issue and request that you narrow it down to fit the assignment's scope. In this case, we recommend you pick a topic you know well and are interested in.
If nothing comes to mind, check out the latest trends on social media, news outlets, or Reddit. You'll easily find half a dozen current issues you could address in your piece. And formulating the title for an opinion paper is as easy as taking a stance.
Below, you'll find a few title samples fitting for opinion writing:
Gamification improves instruction effectiveness and enhances learning outcomes
Extending life expectancy increases the cost of medical insurance
Direct democracy is the best form of government in the 21st century
Strong personalities can change the course of human history
Artificial intelligence will create more jobs than it will destroy
Radical feminism is as harmful as toxic masculinity
Genetic engineering undermines the nature of humanity
Religions are obsolete in the world of science and technology
Social media corrupts human interactions and exacerbates conflicts
The art should be separated from the artist
What is the most effective opinion essay structure?
Although all essays are made of the same building blocks of introduction, body, and conclusion, what you put in each of these sections affects the overall effect of your writing. For example, you can open an opinion essay introduction by stating your opinion outright, but you'll get the readers' attention more effectively with a hook and a quick explanation of your choice of topic before addressing your position in a thesis statement.
Body paragraphs are often the hardest to structure, as students never know how many sections to include. With opinion pieces, less is more. So you should focus on three to five major points, leaving out the weaker reasons. Besides, you can also address the opposing position in one of the closing paragraphs to demonstrate your well-rounded understanding of the issue.
In the conclusion, you once again highlight your position and summarize its reasoning. You can also include a parting thought or a question, but avoid the temptation to add new information to the final passage.
Although the final number of paragraphs depends on your assignment requirements and scope, you can use a typical opinion essay structure below to structure the paper, altering sections as you see fit: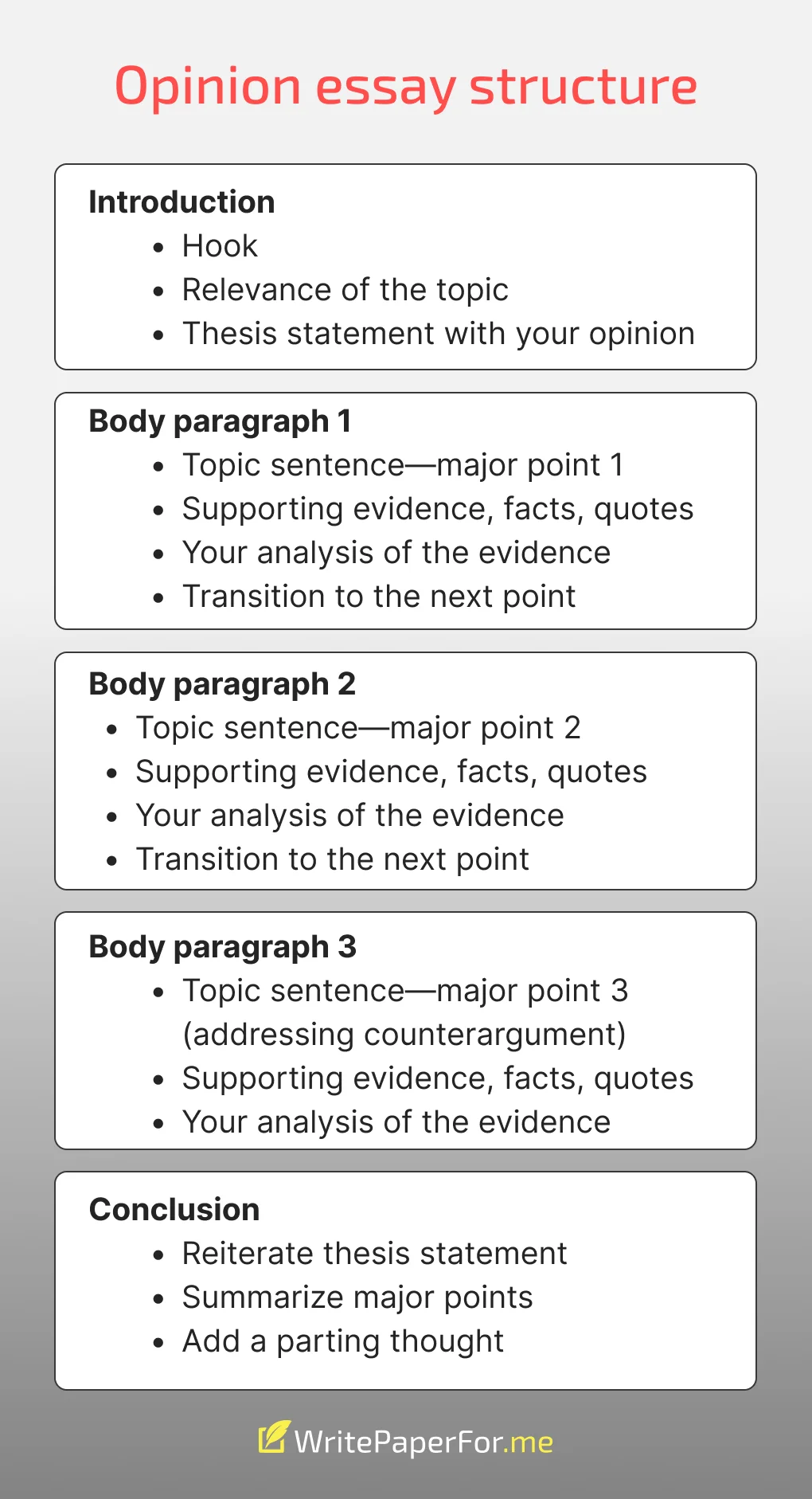 How to write an opinion essay?
To make writing an opinion essay easier, we suggest splitting it into manageable tasks you can complete in under an hour. You can follow our 6-step process that gets you from a blank page to a top-grade paper:
Pick a topic. We covered the basics of choosing opinion essay topics above, so this is just a quick reminder to select a couple of options and run them by your professor before committing to one of them.
Research the issue. Although you can get away with citing news reports or social media posts, we suggest supplementing them with reliable academic sources. You can easily find them using Google Scholar, ResearchGate, etc.
Formulate a thesis. It's supposed to be a single sentence presenting your position and reasoning. Listing all the major points of your paper hints at opinion essay structure and helps you prepare readers for the following passages. Although you'll likely revisit the thesis after the paper is done, crafting it at the onset will help you stay on track throughout the essay.
Create an outline. You can use the opinion essay outline above unless your professor requires a formal submission. Replace the placeholders with your position, ideas, and evidence, and you'll complete the outline quickly.
Write the first draft. To make writing easier, we suggest you start with paragraphs you're most excited about, even if that's not an introduction. You can also use the brain dump method, writing as much as possible within a limited time (around 30 minutes) and disregarding mistakes. You can return to polish it later, as it's merely the first draft.
Revise and proofread. First, look over your first draft and clean up redundancies, inconsistencies, and add transitions for a smoother logical flow. Next, proofread to eliminate typos and errors that detract from the overall picture of your paper. Finally, format the essay according to the formatting style requirements to make it look good.
Tips for writing an opinion essay
A basic algorithm of how to write an opinion essay should help you get started, but we'd like to share a few more pointers for the writing stage of the process. If you remember to follow these dos and don'ts, you'll craft a much more logical and cohesive piece your professor will love.
Do:
Write in the first person
Use the formal academic style
Stay on the topic
Include a thesis statement in the first paragraph
Cite your sources
Use transitions between paragraphs
Devote each passage to one major point
Edit and proofread the paper before submission
Don't:
Overuse phrases like "I think" or "I believe"
Use colloquialisms, jargon, and abbreviations
Include data without citing the source
Address the reader or use imperatives
Go on side rants, straying off-topic
Focus on evidence supporting opposing views
Repeat the same point in every paragraph
Include new information in the conclusion
As you develop your opinion writing style and get feedback from your professor, keep adding to these lists until you have a comprehensive checklist for a perfect paper, like an opinion essay example below.
Opinion essay example
While reading advice on how to write an opinion essay is helpful, learning by example is often easier. So we crafted a short opinion essay example to help you put everything you've learned into perspective.
Students retain no more than 30% of the information they learn in school and college. Despite the time and effort spent in class and on homework, the effectiveness of instruction remained low until teachers started implementing advanced teaching techniques and utilizing EdTech solutions, such as gamification. I believe gamification improves instruction effectiveness and enhances learning outcomes thanks to increasing student engagement, implementing active recall, and utilizing problem-based learning techniques.

First, gamification is among the most effective tools for increasing student engagement and transforming them from passive objects of a lecture-style class into active participants. And improved student engagement leads to heightened emotional states and better understanding and memorization of the subject matter. Moreover, implementing gamification is especially efficient in blended or online learning environments, where students are more likely to disengage from the class when not directly called upon. Unlike direct questions, learning games engage all students simultaneously, increasing the likelihood of positive learning outcomes.

However, increasing student engagement is not the only benefit of using educational games in the classroom. Multiple studies show that active recall is among the most effective learning techniques which can be utilized in solo study sessions, study groups, or the classroom. Therefore, including several games throughout the class to activate recall in students can increase the instruction's effectiveness. At the same time, teachers can assign educational games as homework to encourage the same active recall during revision, enhancing learning outcomes in and out of class.

Like active recall, problem-based learning has been shown to enhance instruction quality, increase student engagement, and improve learning outcomes. However, replacing the standard school curriculum with problem-based cases can be problematic on a school-wide and class-wide basis. At the same time, educational games can supplement traditional syllabi with elements of problem-based learning. For example, students may be required to complete a short quest, where each clue would require them to apply theoretical knowledge gained in class in a practical scenario. Although developing such educational games can require additional time and effort on teachers' part, the benefits to instruction quality and learning outcomes would be worth the effort.

In conclusion, gamification is an advanced educational tool that has immense untapped potential to promote improved teaching and learning outcomes. The benefits of increased student engagement in combination with scientifically supported advanced learning techniques, such as active recall and problem-based learning, outweigh the drawbacks of initial time and effort invested in developing educational games. After all, newly developed gamification tools can be revised and enhanced when changes in the curriculum call for it. And considering the advantages school administration, teachers, and students will reap, implementing gamification is a challenging but worthy endeavor.
Final thoughts
Hopefully, you now better understand what opinion pieces entail, how they differ from other assignments, and how to complete them quickly and efficiently. But if you have additional questions or need extra support writing an opinion essay, contact us. We'll match you with our top experts to help you come up with a topic, develop an outline, or complete the assignment in your stead.
FAQ
How to structure an opinion essay?
An opinion essay can follow the standard three-part structure of introduction, body, and conclusion. The number of body paragraphs will depend on the amount of evidence you collect, as each section should be devoted to a single major point.
What to include in an opinion essay?
Your opinion essay should include your position and the reasoning behind it. The latter may include primary and secondary reference data, anecdotal evidence, research results, etc.
What is the purpose of an opinion essay?
The goal is to express your opinion and explain what helped you formulate it. In addition, the assignment helps you practice valuable skills, such as formulating independent opinions and learning how to distinguish reliable takes from misinformation or propaganda.
How do you start an opinion essay?
You can start an opinion essay with a hook. It can be a rhetorical question, a quote, or a surprising fact about the topic that supports your opinion. After that, you can include a sentence or two on the issue's importance and transition to the thesis statement.
How to state your opinion in an essay?
You can write in the first person and state your opinion directly in the thesis statement of the first paragraph. However, you should avoid cliches like "I think" or "I believe" to make your writing more dynamic.