Essay writing blog on WritePaperFor.me
Thematic essay writing is one of the most common assignments for college students. The project is universal and can be accomplished in different disciplines. Excellent structure, relevant information, proper formatting, and a deep understanding of the topic are the key elements that will help you create an influential paper. Check out comprehensive guidelines and writing tips that will guide you through the writing process and help you succeed at the undertaking.
What is a thematic essay?
Before you dive into writing a thematic essay, you should start with the definition. A thematic essay is a type of academic assignment that is concentrated on a specific topic or issue. The main goal of the essay is to view the subject matter from various perspectives and find the best solution. Profound research, deep analysis of the topic, and critical review of related topics are inevitable for the creation of a consistent and influential paper.
If you understand the thematic essay definition, you have a higher chance of succeeding at its writing. Keep reading to get simple recommendations and comprehensive instructions on how to create a thematic paper worth discussing.
Thematic essay topics: how to make the right choice
Thematic essay writing starts long before you open the laptop and start searching for relevant information from credible data sources. The first and most important task for the student is the single out one of the most appealing, interesting, and up-to-date themes from the multitude of available thematic essay topics.
Do you find it complicated to get settled with a relevant question worth attention? Check out a few categories with exciting ideas that may inspire you and help you pick the best thematic topic for your paper.
Possible Thematic Essay Topics
The Meaning of Philosophy and How It Has Changed over the Years
Unconscious Thinking: Can It Be Controlled?
Male and Female Responsibilities
The Impact of Social Media on People
The Prominence of Political System for People
Religion and Its Role in Society
Different Approaches to the Death Penalty
Do Video Games Affect Mental Health?
Is It Safe for People to Carry Handguns?
Global History Regents Thematic Essay Topics
The Discrepancy between State- and Federal-Level Law
The Way Different Countries Influence Each Other
Smoking in Public Places: Should It Be Legal?
Legalization of Prostitution
G7 and Nuclear Weapons
Should the Legal Drinking Agen Be the Same around the World?
Banning Drugs Can Trigger More Serious Problems
The Minimum Age for Abortion: What Should It Be?
Anti-Trust Lawsuits and Their Specifications
U.S. History Thematic Essay Topics
Homestead Act and Its Impact on Society
Fugitive Slave Act in the US
The Civil Rights Act and the Way It Changed People's Lives
Effective Methods to Deal with Increasing Immigration
The Impact of Dred Scott on the US Law System
Racial Lawsuits and The Way They Influence Business in the Country
Agen Discrimination in the History
Thematic essay outline
After you have selected the topic for your paper, you can dive into the instructions on how to write a good thematic essay. The creation of a flawless outline will surely be one of the most critical points specified in all the guidelines. It is the point that will help you keep the paper concise and consistent.
Working on the thematic essay outline, it is inevitable to mind the structure of the paper and the peculiarities of every constituent. Divide the essay into main parts, such as an introduction, body, and conclusion, with further subdivision into other paragraphs. Check out a sample outline with an impeccable thematic essay structure that may help you cope with the task much faster.
1. Introduction
Hook
Background data
Thesis statement
2. Main body
2.1 First paragraph
Topic sentence
Supporting evidence
Analysis of the information
2.2 Second paragraph
Topic sentence
Supporting evidence
Analysis of the information
3. Conclusion
Reiteration of the thesis statement
Brief summary of key points
Call for further topic research
Stick to the classic outline format to come up with a well-structured thematic paper.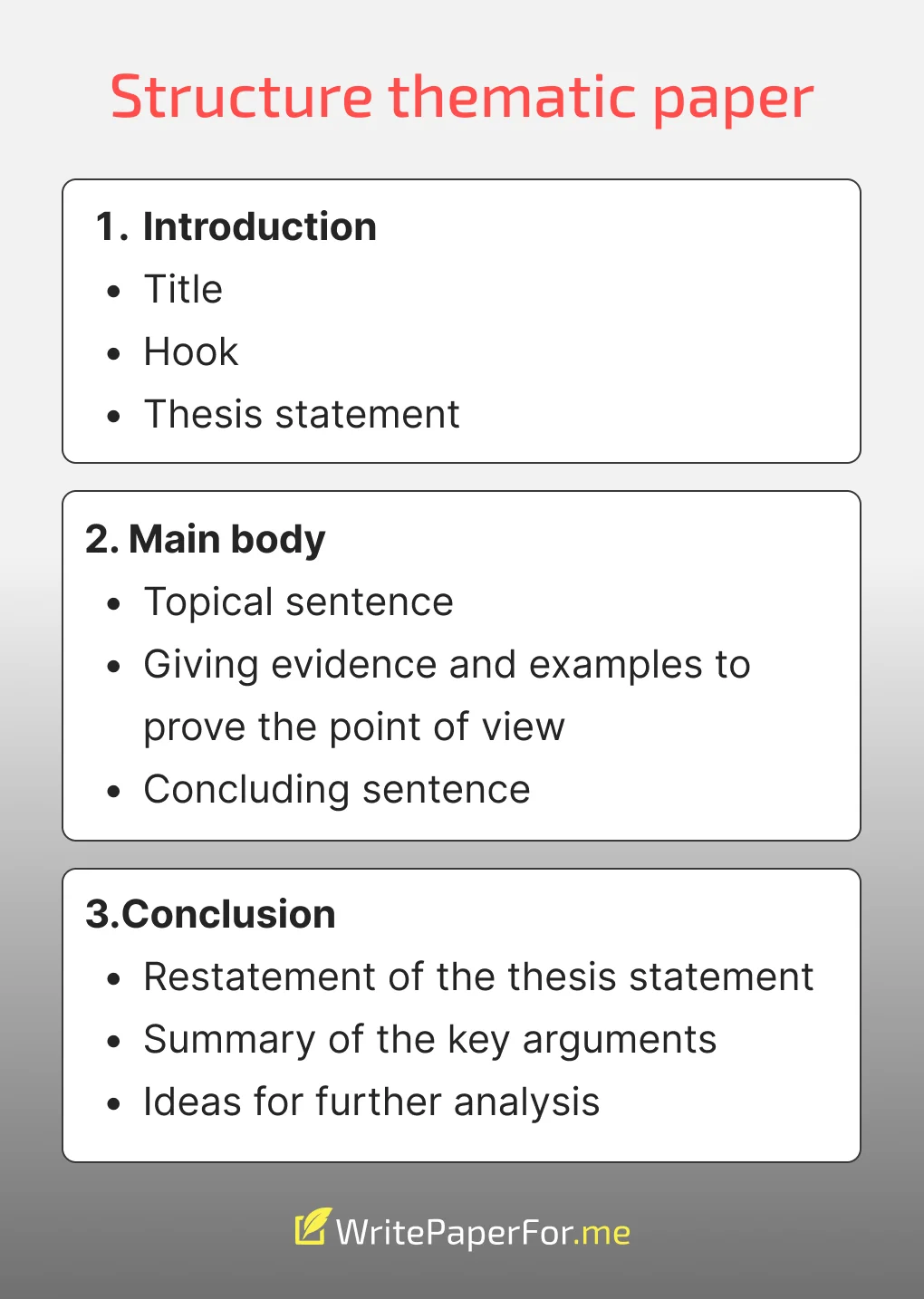 Thematic essay format
As an academic writing paper, a thematic essay format should correspond to the requirements given by a professor. MLA and APA are the two most common formatting styles used for essay creation and can be used equally depending on the requirements. Focus on the font type and size, margin specifications, and similar aspects if you want to know how to format an essay right.
How to write a thematic essay: a comprehensive guide
Thematic paper writing is a comprehensive process that consists of multiple stages. None of them can be skipped or ignored, especially if you strive to achieve flawless results.
Pre-writing stage
While a considerable number of people are convinced that writing an essay is the most complicated process, searching for relevant and up-to-date information may be an even more challenging undertaking. At this point, it is indispensable to mention that the quality of your research will predetermine the quality of the paper. Collect information from different, most credible sources, analyze facts, brainstorm ideas so that you have a lot of interesting data to present.
Essay writing
Once you have succeeded with the preparatory stage, you are ready to start working on the first draft. Following the outline, you should start with the thematic essay introduction, which should intrigue readers and make them excited about reading the whole text. Then, proceed to the main body, which will reveal more details and information that was not mentioned in the opening passage. A thematic essay conclusion should be informative and concise, reiterating the thesis statement and calling for action.
Post-writing stage
Finally, when the first draft is ready, you should proofread and edit it. With the development of technology, there is always an opportunity to thrive with these aspects automatically, using up-to-date apps. Irrespective of the methods you choose for the completion of the process, you should never skip it.
Writing a thematic essay is not complicated if you follow simple rules and guidelines.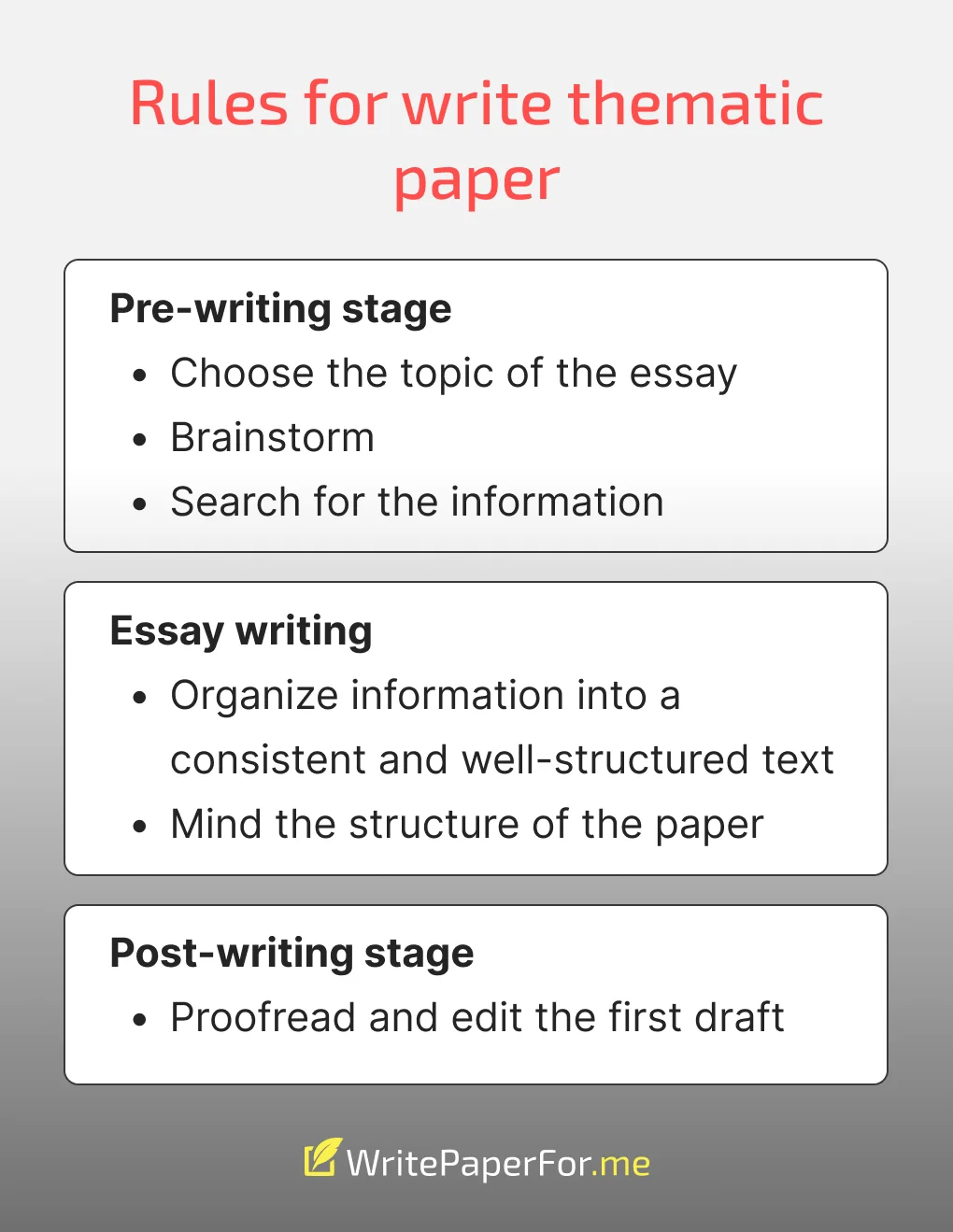 Writing a thematic essay: tips and tricks
Are you ready to start working on the theme essay? Here are a few important tips that will simplify the process and guarantee better results.
Choose a topic that is interesting for you to discuss.
Search for relevant and up-to-date information from credible data sources.
Ignore facts that seem dubious.
View the question from multiple perspectives.
Keep the paper well-structured and consistent.
Do not include too much information in the introductory part.
Proofread and edit the first draft to make the paper look scholarly.
Thematic essay example
Have you read all the guidelines but are still unsure about the ability to come up with a well-structured and powerful thematic essay? Take your time to read a thematic essay example that may inspire you and provide you with effective writing instruments and ideas to use for your custom paper writing.
Terrorism is one of the most dangerous problems in a lot of countries, irrespective of continuous efforts to suppress and forewarn its advancement. In fact, understanding the recruitment instruments or the terrorists seems to be one of the most beneficial and effective methods to fight the problem. However, the terrorist recruitment strategy targets crisis categories of people who have a high risk of being affected by terroristic views.

Motives. The main desire of all terroristic organizations is to change the world for the better and make it comfortable for everyone. The willingness to participate in similar movements serves as the reason why a lot of people become terrorists. According to the most recent studies, all the conversations in terrorist groups on social media start with the discussion of social, financial, political, and economic problems. This way, terrorists encourage young people to join special organizations that can finally help this world to become a better place. The desire to set equality, avoid social injustice, and fight poverty motivates young recruits to start acting. The burning desire to improve the situation and turn wrong to write makes youth vulnerable and easy to control.

Beliefs. Religion is another way to control people and make them act in a certain way. A considerable number of people join terroristic organizations in order to belong to a specific group that fights against the injustice and suppression of certain beliefs. According to one of the experienced terrorists, he became a part of the organization, being encouraged by his parents, who were religious fanatics. His parents brought him up teaching the basic principles of justice and the necessity to give everything for it. No matter if your faith is wrong or right, no one should dare to prevent you from the desired worship. Young people who have similar views are easy to manipulate, so they are easy to be recruited into a terroristic organization that shares their values.

Revenge. There is another category of people who join terroristic organizations quite easily. These are the youth and adults who have lost their friends or family members during the counterterrorism actions. The loss, grief, and sorrow motivate people to re-establish their identities and let justice win again. Some people choose active participation, while others remain passive, but the desire for revenge does not become smaller.

The overwhelming majority of people who belong to terrorist organizations suffer from an identity crisis, which makes them susceptible to recruitment. The desire to be a part of the community that fights for equal rights, justice, and peace makes them feel more self-confident and worthy. The main goal of counterterrorism campaigns is to break the course cycle of recruitment and make people understand that they are being used. It is the only way to fight terrorism and make it less influential and spread.
Conclusion
Following the guidelines and writing tips working on the thematic essay can be much simpler. Stick to the structural specifications and other aspects that can contribute to the relevance of your work. Keep in mind that thematic essay writing requires a lot of research, so you should be ready to spend a lot of time searching for relevant information and analyzing it.
Do you have little time, skills, or desire to work on similar projects? Writepaperfor.me is the service that is always ready to do your job instead. No matter if you need to create an influential thematic paper or write an expository essay, experienced writers will guarantee the best results at the most reasonable costs. Safety, anonymity, confidentiality, and convenience of the experience are also guaranteed.
Contact the Writepaperfor.me team and discuss the type of paper you need. Individual approach to every assignment, flexible prices, and lots of other features will help you get your book review, coursework, thematic essay, or any other type of academic writing at a competitive cost and within a short while.
FAQ
What is the main point of a thematic essay?
The main idea of the thematic essay is to analyze a specific topic or present a particular statement on the theme, giving the most up-to-date and relevant information. In most cases, a thematic essay serves as a response to a social study or an essay that leaves a lot of unanswered questions.
How to write a thematic essay for us history regents?
Relevant facts, profound research, and flawless structure are the key features of the thematic essay for US history regents. Check out the tips mentioned above and guidelines that will help you thrive with the assignment and make sure your paper complies with the requirements.
How to start a thematic essay?
The main idea of the introductory passage is to present the analyzed subject matter and make the readers excited about the paper. An enticing hook is the first sentence that is supposed to grasp the attention of the audience and make people anticipate further discussion. To start a thematic essay, writers can use a variety of writing instruments and tools, such as quotes, questions, stories, and others.
How to write a conclusion for a thematic essay?
A thematic essay is a type of academic assignment, so it should feature excellent structure and flawless division into paragraphs. As for the concluding part, it should be meaningful and concise, reiterating the thesis statement and emphasizing the core facts specified in the body part. Do not include any new information, but rather provide the audience with interesting ideas to consider and research.