Essay writing blog on WritePaperFor.me
A typical DBQ essay is an assigned task, which is important for all students without exception. This paper allows you to test your analysis and understanding skills. In addition, such an assignment allows you to find out whether students are capable of non-standard ideas and a detailed analysis of various documents. Moreover, writing a DBQ essay will help you succeed on your path to an academic qualification. But what is a DBQ paper, and what writing features should every student know? Here are the things you need to know as soon as possible!
What Is a DBQ? The Key Definition
Let this abbreviation not scare you because everything is simpler than it seems at first glance. The DBQ essay, or "Document Based Question," is a paper that is part of the AP U.S. History exam (APUSH). Such a document based essay involves giving answers to questions using three to 16 sources. Typically you will be given a set of questions, so try to analyze them in detail and provide answers. But not all beginners understand how to check each document and make the right conclusions properly, so check this guide.
DBQ Essay Outline: The First Step in the Right Direction
Your first step towards high grades is to create a solid DBQ outline. Typically it consists of an intro, 2-3 body paragraphs, and a conclusion. Of course, historical documents will be the central part of your paper. Here is a detailed description of what you should include in your three key essay blocks.
Intro
Your DBQ outline should begin with a catchy sentence to hook your audience (professor or instructor). Should you state the topic's background based on some document? That is why you need to find relevant sources (historical documents). Now it's time to craft your thesis statement. State your claims and prepare evidence to support them. And don't forget that your DBQ thesis should be accompanied by a key essay question which you should answer in body paragraphs using some document or other relevant source.
Body Paragraphs
You probably want to know how to write a DBQ body paragraph, so let's start. First, start with the strongest argument linked to the main thesis statement. Then, don't forget to add an analysis of the references (pick a relevant document). In general, you need to add one solid argument for each of two (or three) paragraphs. And now, let's move on to the next part of the overall DBQ structure, having created clear transitions.
Conclusion
Writing a DBQ essay is a complex process. But you can simplify it by crafting a summarizing argument of the whole assignment. You should also include the primary points or crucial information from relevant sources (documents). In the final part, you also need to craft a concluding sentence or question which challenges the point of view that argues against your sources. This approach will make your DBQ essay look logically complete.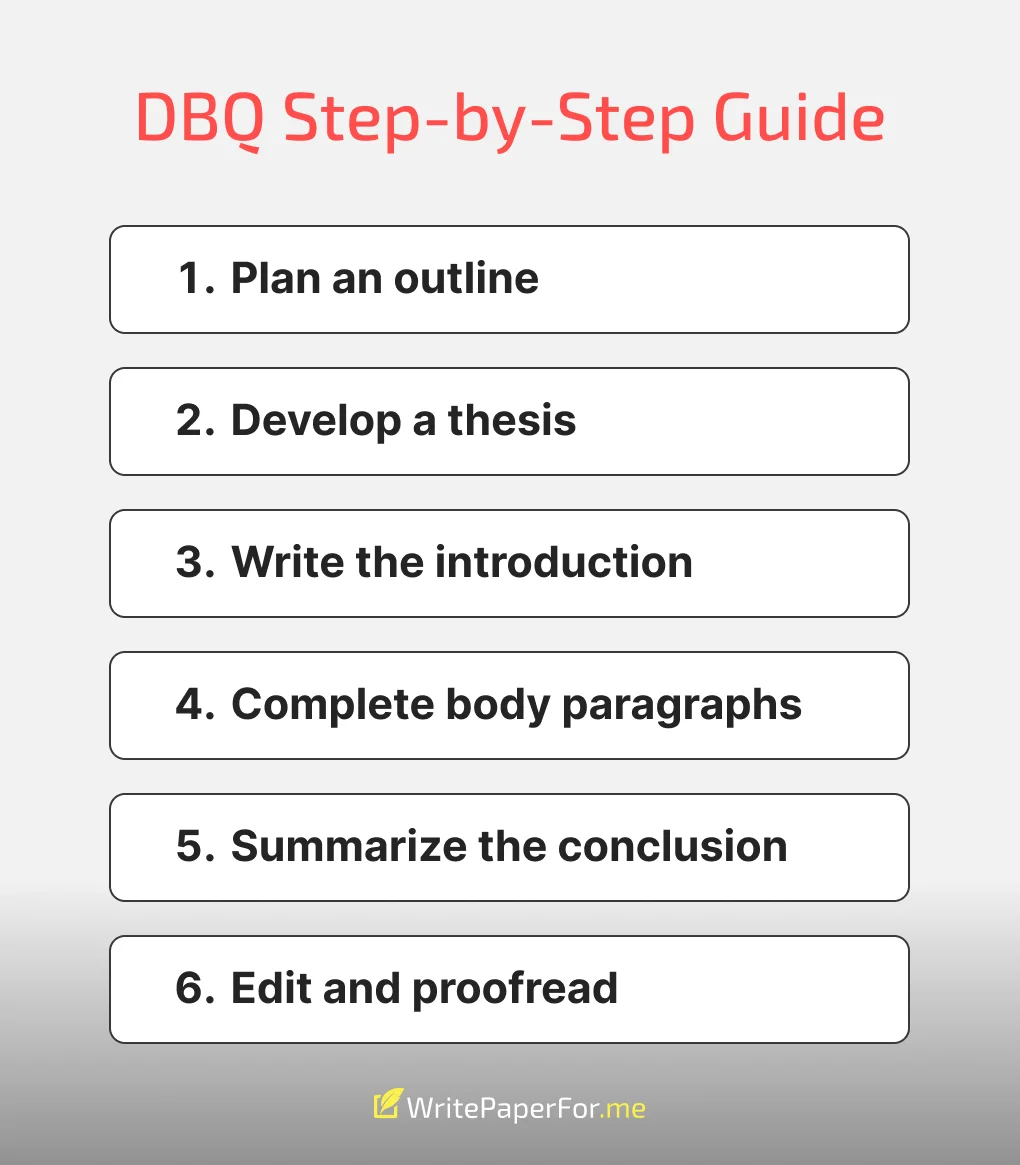 Useful Tips to Write a DBQ Essay Like a Pro
Even the most detailed guide will not rid young students of academic fear. For example, how to write a DBQ essay correctly? What aspects should be considered first, and what question should be added to the introductory paragraph? Questions like these can confuse first-year students, but don't panic! Here are useful tips to help you save time and stand out!
Plan Your Essay
Your professor usually provides you with a topic, so try to be quick. Since your DBQ essay is part of the exam, study the sources provided for at least 15 minutes. Then, plan your essay writing steps by dividing important information into paragraphs. You should also note all the key points and place them in the required parts of the essay. This trick will simplify the writing process so that you don't have to remember what nuances you want to mention.
Keep Your Intro Short and Brief
Such advice makes sense because you can be given not one document but 5-10 sources. The first sentences play a crucial role in your professor's perception. That is why you need a hook and a solid thesis statement. But don't try to jump ahead and answer key questions right away. Keep your intro short and brief, including only the most important nuances before proceeding with your topic.
Pay Attention to Your Thesis
Remember that you have to form a solid thesis and answer key questions. The first part of your DBQ essay thesis should include solid claims, and the second one is intended to describe the essence of your topic. The third part should include how you answer the main question. Typically, your APUSH DBQ thesis should not be two sentences long.
Avoid Mixing Ideas in the Paragraphs
Each body paragraph should contain one idea or question. Avoid mixing ideas, as this will lead to confusion and chaos. Instead, use one claim and one document that supports your ideas. And don't forget that your body paragraphs should contain clear transitions. Such writing tricks help you move from one idea to another without a jumble of facts.
Use a Conclusion to Persuade Your Audience
You will have to face your professor's skepticism if you don't craft a solid conclusion. The fact is that the final part of your paper is very important. Your mission is to summarize the entire paper, create a visible connection between the conclusion and thesis, and answer the question in a concluding sentence. Emphasize your "big idea" and mention the key points that you were able to analyze.
Proofreading Is A Must!
Since your essay is part of the exam, spend at least 10 minutes proofreading. Make sure you don't make any grammar or spelling mistakes. Typos will also affect your grade, so analyze each sentence carefully. And make sure your body paragraphs answer the question and link to the thesis. Considering the above aspects, you can count on a high grade.
Timing Is Very Important!
Typically you will have 3 hours and 15 minutes to complete your essay. Reserve approximately 15 minutes for the preparation and planning phase. As a rule, this time interval is enough to visualize all the key ideas and craft your outline. Your intro shouldn't take more than five minutes if you know the key points you need to mention. Forming your thesis can take up to 20 minutes or more, so don't delay!
Next comes the most difficult stage of crafting body paragraphs. You will have two hours and fifteen minutes to complete this mission. Creating a solid conclusion will take you about ten minutes. And don't forget the proofreading stage. Typically, this stage also takes no more than 10 minutes if you haven't spent much time on the body paragraphs. Try to keep the timing, as your professor will not give you more time for writing activities.
Other Writing Tips You Should Know About
Here are some more important tips you should follow if you are counting on a positive academic result. But first, here are the details you should know about.
Understand. Make sure you understand the purpose of your work and the key topic.
Practice a lot. Practice writing your essay before exam day arrives.
Identify. Try to quickly identify the key points from the sources to start writing paragraphs.
Categorize: Put each point into categories, as this strategy is extremely important for your essay.
Follow DBQ examples. Having checked a good sample, you will understand where you should start and what nuances should be avoided.
As you can see, even simple tips and ideas can be extremely useful for your essay. Try to prepare for the exam carefully, and do not lose sight of the smallest details.
DBQ Example: A Good Sample to Start Writing
Now you know what important nuances you should consider in each paper part. But what if you've found the right document and aren't sure what you're doing? Perhaps you should start with a good DBQ essay example. Here is a sample to help you capture the essence of your assignment.
The Second World War claimed millions of lives but became fundamental in the increase of the rights of women. Since many European and American men were forced to go to the front, women had to learn new professions and activities previously considered exclusively "male prerogative." In addition, factories, factories, farms, and various enterprises needed new employees. The "dig for victory" slogan was especially popular during this period. Thanks to the events that followed the start of the Second World War, women proved their right to new types of work, equal pay, and standards.
Now you will surely understand how to write a DBQ paper or at least know in which direction you should move. Don't forget to consider historical aspects and every document relevant to your essay. This strategy will allow you to achieve the desired result faster.
Writing DBQ Essay: Final Thoughts
As you can see, the devil is not as black as he is painted. You can begin writing with relevant documents, tips, and a good sample DBQ essay. In any case, you do not have to worry about not understanding any academic nuance. However, it can still be difficult for first-year students to deal with nuances. But don't panic; we're here to assist! We have a team of qualified experts with Masters and Ph.D. degrees. Contact us if you are unsure of your skills. Just a couple of clicks, and we'll get to work. As you can see, you now have an additional option for crafting your essay!