Essay writing blog on WritePaperFor.me
Since 1920s, the National Honor Society (NHS) has been a premier institution recognizing prominent academic and extracurricular achievements among high school students. NHS offers a variety of benefits for its members, including college application coaching, leadership training and more. Millions of high schoolers wish to join the exclusive club of actors, senators, astronauts, presidents, professional athletes, and other American heroes. The application process comprises several steps and crafting a National Honor Society essay is among them. To help you craft a perfect application and increase chances of success, we've developed this comprehensive guide.
What Is a National Honor Society Essay?
While not a mandatory stage of the application process, an NHS essay is similar to a scholarship or college admission essay. Unless a particular topic is specified, your writing should answer several profound questions:
Why do you want to join other members of the NHS?
What traits and experiences make you the perfect fit for the organization?
How do you meet the scholarship, service, leadership, and character requirements?
As there are no rigid structure requirements, your answers can take on many forms. However, the most successful and impactful essays are usually reflective pieces that allow the admission board to get to know you through the lens of a story or an anecdote. This format is so powerful because it enables you to showcase your best qualities through examples without sounding arrogant and boastful.




How to Write a National Honor Society Essay
There is no one-size-fits-all algorithm for writing this deeply personal piece. However, all essays need an exciting opening, solid body passages, and a profound conclusion. Let's go over each part of the paper and make them better.
National Honor Society Essay Introduction
The first step is always the hardest. You must find the courage to get writing, beat your procrastination into submission, and overcome the fear of the blank page. It's perfectly acceptable to skip the opening if you can't think of a good line to grab the reader's' attention. However, the thesis statement is not optional. A clear understanding of where your story is headed and what the takeaway will be is a must.
If you don't know how to start a national honor society essay, begin with the climax of your story. Think of the movies that open with the main character standing at the edge of the cliff, with a standoff or a fight. Once the premise is laid out and you are at the edge of your seat wanting to see more, the movie takes you back to the beginning of the story. You can use the same technique in your essay to grab attention and turn your application unique.
Alternatively, quotes, numbers, questions, statistics are all excellent examples of traditional hooks for a National Honor Society essay introduction. If you choose one of these options, you'll have to research the topic to find a piece that is fresh, surprising, credible, and unbiased.
National Honor Society Essay Body
There are four critical requirements for NHS applicants. Address them in the main part of your essay to secure the membership. Here several National Honor Society essay examples of how to tackle this part:
Scholarship or academic excellence requires you to have a GPA of 3.0 out of 4.0 (V or 85). Considering your application package will include the school transcript, you don't have to list your grades or science fair prizes. Instead, you can describe the subjects that gave you trouble and the ways you overcame it. Another way to expose your perfect grades subtly would be to discuss your tutoring of the classmates or younger students. Maybe the teacher asked you for assistance during a class, or you found a mistake in the textbook. There are many ways to show how smart you are without listing all grades.
Service or volunteer experience requires you to contribute to your school or local community without asking for payment. Once again, official reports or transcripts will be available to the admission board, so you can tell a story or provide glimpses into your experiences. You might babysit for your neighbors for free or read to senior patients in a nursing home. Who are the people whose lives you touch with your volunteer work? How does your help change their lives for better? Why did you choose this particular way to help the community
Leadership requires you to exhibit problem-solving skills and resourcefulness when working with others in your school or community. Remember that leadership is tested only in the presence of other people to follow your lead, even it's just your lab partner, your school chess club, or a debate team. Show the readers one of the critical moments of your leadership. It may be the time you became the captain, or your position was contested. You may also talk about the role models that inspire your actions as a leader.
Character or clean disciplinary record requires you to be honest, polite, reliable, and respectful. You can establish this aspect of your personality through the lens of the previous three requirements. Good grades require academic honesty while volunteer work with seniors calls for respectfulness and politeness. Your leadership record should prove your reliability for other team members.
In a perfect world, you would have a heart-warming story that highlights all four of the NHS critical requirements. However, most students demonstrate leadership and service in different circumstances. As a result, they can't craft a single storyline to encompass everything. The solution is simple if you remember our advice on writing a National Honor Society essay introduction. Treat your essay like a screenplay.
You might hate flashbacks, side stories, and subplots in your favorite show, but they are valuable storytelling tools you can use in your writing. Pick one story that encompasses most of the requirements and add side notes or flashbacks to show your other glowing qualities.
If you don't feel up to writing a story, you can rely on a tried-and-true five-paragraph essay structure, adding an extra body paragraph. This way, you can dedicate separate passages to the four NHS requirements keeping the paper structure clean and logical. If you choose this approach, pay attention to transitions between paragraphs, fusing them into a single cohesive piece. Otherwise, your paper will look choppy, and the readers will get frustrated with the lack of smooth flow between one point and the next.
National Honor Society Essay Conclusion
Your closing paragraph doesn't have to be lengthy. It's there to sum up your story or main points and remind the reader once again about your thesis. With an NHS essay, your final passage should restate why you are worthy of becoming a part of the NHS family. Additionally, you can address how your membership will influence your life and how you plan to use the opportunities NHS provides to help the American society or your local community. It will cover the answer to the famous "So what?" question.
The National Honor Society Essay Examples
In all honesty, looking at National Honor Society essay examples can do you more harm than good. Instead of inspiring you to write your story, outstanding samples might discourage you from applying altogether. Moreover, browsing examples may feed your procrastination. You'll feel productive but won't accomplish the goal of completing the essay. We won't overburden you with dozens of National Honor Society essay examples; instead, we'll provide the one we consider to be well-written and compelling.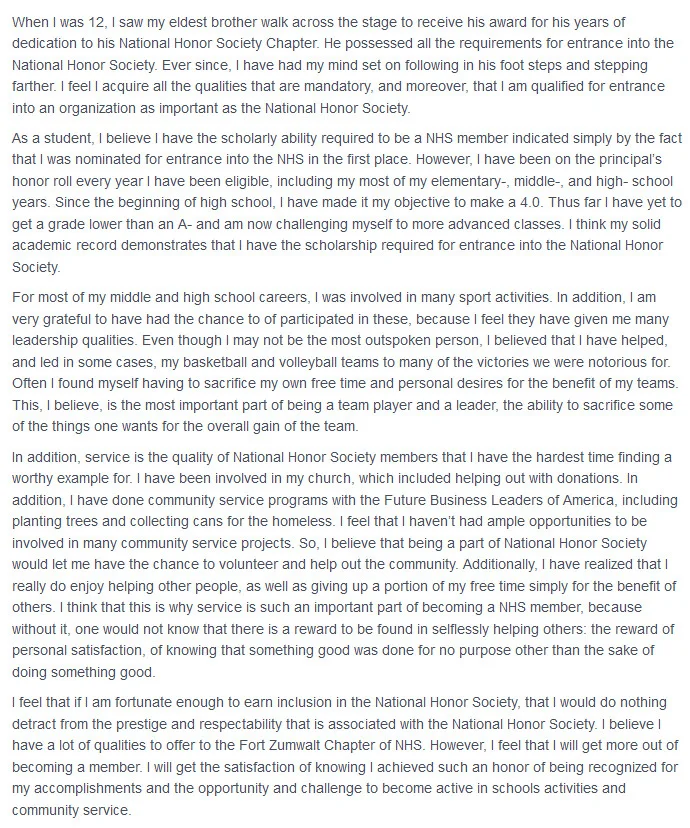 NHS Essay Help
If you are aiming for a National Honor Society membership, your plate must be full with classes, homework, extracurriculars, and volunteer work. There's just no time to sit down and spend hours or even days on planning, writing, and editing. So why not delegate your writing to professionals? You just need to specify the topic, word count and the deadline for our writers to start on your order. With us, you'll get a well-written and 100% unique paper at an unbeatable price. Think of how much time you will save and how much you can accomplish while we write your paper for you. Delegate, relax, enjoy!